Get your puzzle on with this new offering from Sega this February.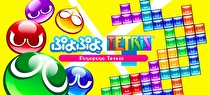 Puyo Puyo Tetris is set to release on the Nintendo 3DS and Wii U in Japan on February 6 for 5,229 yen as both a physical and downloadable title, Nintendo revealed at the latest Nintendo Direct in Japan.
The game is a mash up of the both Tetris and Puyo Puyo and allows gamers to play competitively against the computer or with up to four friends. For more information about Puyo Puyo Tetris, be sure to read my impressions of the 3DS version from the Tokyo Game Show build of the game here.