Babies can drive?!?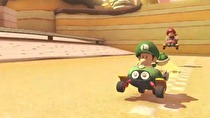 Rosalina and the baby versions of several Mario characters will be playable in Mario Kart 8.
New footage of Mario Kart 8 was shown at today's Nintendo Direct, revealing new characters along with new tracks. The new tracks included an airport, a desert, and one that is described as "high in the clouds." Racers will drive many vehicles in this new installment, including UFOs.
Mario Kart 8 is set to release in Spring 2014.