The Year of Luigi continues on with a new eShop game.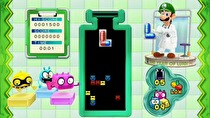 Dr. Luigi, a new downloadable title from Nintendo, is coming to the Wii U eShop. Acting as a new entry in the popular Dr. Mario puzzle series, Dr. Luigi will have many challenges to complete as well as online multiplayer.
The game uses L shaped capsules and is being made easier for newcomers, though the challenge level can be changed for more experienced players. The game will also be playable using just the Wii U GamePad.
The title launches on January 15 in Europe, and December 31 in North America.