Plus a new video showing off the apps!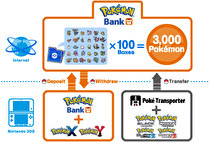 The previously announced Pokémon Bank and Poké Transfer applications for the Nintendo 3DS will be available December 27. The Pokémon Company released a video showing off some of the functions of the new applications.
The Pokémon Bank will allows players of Pokémon X and Pokémon Y to manage up to 3,000 Pokémon stored through the application and transfer them to either Pokémon game. An internet connection will be required however, as all data will be stored online.
The Poké Transfer application will allow users with either Pokémon Black, Pokémon White, Pokémon Black 2, or Pokémon White 2 to transfer Pokémon from those games into Pokémon X or Pokémon Y. The Poké Transfer is a linked application that will be included with the Pokémon Bank download.
These two services will require a $4.99 annual fee to use. Players who download the Pokémon Bank before January 31, 2014 will receive a 30 day trial for free. After the trial ends, any Pokémon stored on the applications will stay on the Pokémon Bank's database, however they cannot be accessed again until the annual fee is paid.
For more information on the two applications, check out the video below or visit www.pokemon.com/bank.