Who knew that this golden oldie had such deft platforming skills? (SPOILERS INSIDE)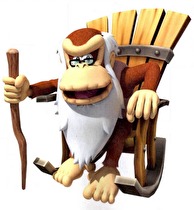 Donkey Kong Country: Tropical Freeze will be released for Wii U on February 21, 2014, as announced during the recent VGX awards show.
In addition to a release date for the previously delayed 2D platformer, Nintendo and Retro Studios unveiled the title's fourth playable character to be Cranky Kong, the grandfather of the titular Donkey Kong who was previously teased via a leaked image of the game's box art.
Cranky Kong, who makes his series debut as a selectable character, has the unique ability of bouncing on his walking stick, which enables him to gain greater altitude than a regular jump and traverse otherwise dangerous hazards, such as spikes - not dissimilar to Scrooge McDuck's signature mechanic in Capcom's Ducktales franchise.
New gameplay footage showed certain collectibles that can only be obtained by utilising Cranky's capabilities. He joins a roster of previously-revealed Kong family members Donkey, Diddy and Dixie.