Learn the origins of Bruce's mad martial arts skills.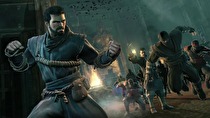 Batman: Arkham Origins will receive new downloadable content in December, according to a recent episode of DC All Access. The DLC challenge pack, Initiation, will follow Bruce Wayne's training before he became Batman.
Ames Kirshen, the vice president of WB Games, explained how the DLC is "a new kind of map pack that's got a little bit of narrative to it." The story begins at the end of Bruce's martial arts training as he learns Togakure-Ryu from Master Kirigi in a secluded monastery in North Korea. Players must battle against ninjas to perfect hand-to-hand combat skills and complete initiation.
Three DLC packs for the game were previously released last week: Infinite Earths Skins Pack, The Black Mask Challenge Pack and Online Supply Drop #1.