Visit the Louvre from the comfort of your own home via your 3DS!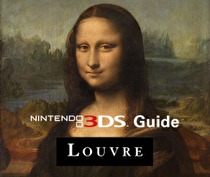 The Nintendo 3DS Guide: Louvre is available now on the Nintendo 3DS eShop in Europe, Australia, New Zealand and Japan for £17.99/€19.99, AUD$26.00, NZD$34.00 and 1,800 yen respectively.
The software offers an in-depth look at the Louvre with 30 hours of audio, 400 pictures of the interior of the museum including 360 degree panoramic views, 3D photos and models and 600 images of art of which 150 can be viewed in high quality 2D images. An interactive map feature also allows for users to plot out their own exhibit path.
The software can also be used at the Louvre itself. After enabling local wireless on your 3DS, a Visit the Louvre mode can be enabled to enhance the experience by using location sensing technology to determine where you are and to give you information about nearby works of art.
Nintendo 3DS Guide: Louvre is a 1.8 GB download from the eShop. A packaged version of it is also available exclusively at the Louvre Museum gift shop. A special Nintendo Direct was broadcast in both Europe and Japan highlighting the release of the new software. For those interested in seeing a preview of the software, a free 3D video of the Venus de Milo sculpture is on the eShop.
The software will be launching in the U.S. on December 2 for the price of $19.99