Gamers in Japan can now get their survival horror on for a cheaper price.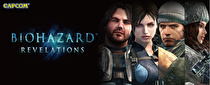 Two popular titles in Japan, Tongaribōshi to Mahō no Machi and Biohazard: Revelations (Resident Evil: Revelations), are on sale on the Nintendo 3DS eShop in Japan starting today.
Tongaribōshi to Mahō no Mach is temporarily dropping from 4,980 yen to 2,940 yen and Biohazard: Revelations is going from 5,300 yen to 2,990 yen. The sale will continue for a little over a week and will end on November 21 at midnight.
Biohazard: Revelations was released on the 3DS eShop earlier this year in both Japan and North America.