The sword-wielding prince from Fire Emblem is back.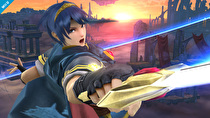 Marth will be retuning as a playable character in the next installments of the Super Smash Bros. series releasing on Wii U and 3DS in 2014.
This information comes from the official Super Smash Bros. site where Marth was shown in several screenshots and was given his own character profile. While hard to tell from these screens, it appears as though Marth will be keeping several of his moves from the previous Smash Bros. games, most notably his counter attack.