Following in the footsteps of Galaxy, live-recorded music is on the agenda for 3D World.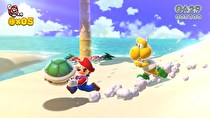 Nintendo's upcoming Wii U platformer Super Mario 3D World will incorporate several live orchestrated songs in its soundtrack.
According to the game's lead composer Mahito Yokota, much of the background music was recorded using live instruments, similar to the Super Mario Galaxy games on Wii, which utilised a full 50-piece symphony orchestra.
"There are naturally a lot of tracks performed live. We're arranging the music with a big-band feel, taking advantage of a full horn section with trumpets and saxophones," said Yokota in an interview with Destructoid.
Super Mario 3D World will be released first in Japan, on November 21, in North America on November 22 and a week later in Europe on November 29. An example of the game's jazzy big-band music can be heard in the trailer below.