Pudgier Nintendo characters better watch out.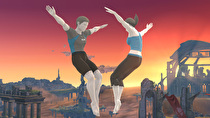 The male Wii Fit Trainer will be appearing in Super Smash Bros. for Wii U and possibly 3DS.
While the female Wii Fit Trainer has already been confirmed as a playable character, it is not yet known whether the male trainer will be. It is possible he could be a part of a special move, an Assist Trophy, a costume change for the Female Trainer, or even just appear in another aspect of the game.
Super Smash Bros. for the Wii U and 3DS is scheduled to release in 2014.