Forget that gym membership, Wii Fit U has a free trial!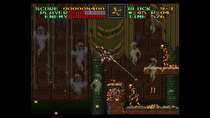 Wii Fit U is finally here to help you drop some pounds before the culinary onslaught that is American Thanksgiving! The best part: there's a free trial version. This week we also got some Virtual Console love with one of the best Castlevania games under the sun and one of the most frustrating NES games ever made. Not to mention quite a slew of retail releases, so there should be something for everyone this time around.
Next week I'm hoping for some high-octane releases as we enter the November Gamepocalypse, but only time will tell. This is a great chance for Nintendo to bring some download heat in efforts to steal some attention away from the two impending console launches.
3DS Retail Games
LEGO Marvel Super Heroes: Universe in Peril - $39.99
Ben 10 Omniverse 2 - Price TBA, Available November 5
Pac-Man and the Ghostly Adventures - $39.99, Available November 5
Saban's Power Rangers Mega Force - Price TBA, Available November 5
Wii U Retail Games
Wii Fit U - Free trial version, Available November 1
Ben 10 Omniverse 2 - Price TBA, Available November 5
LEGO Marvel Super Heroes - Price TBA
3DS eShop Sales
Shin Megami Tensei IV - $39.99, from November 4 through November 11
Wii U eShop Sales
Bit.Trip Runner 2 - $9.99 (33% off), starting November 1 at 9 a.m. PT until November 7
3DS eShop Games
Really? We're doing this?…Alright, Angry Bunnies is a game in which you fling small, round animals at other small, round animals in an effort to destroy their shoddily built structures. Except this time they're bunnies, which are totally separate animals from, say, birds. Just saying.
Arcade Classics 3D - Price TBA
I know what you want: more arcade collections! This one features riveting titles such as a puzzle game, a space shooter, and a game where colored blocks fall from the ceiling! I wouldn't pass this one up if I were you.
3DS Virtual Console
If you didn't have a subscription to Nintendo Power back in the day, then chances are you still suffer from moderate bald spots, because Milon's Secret Castle can make even the most patient gamer rip their hair right out. That said, it's a genuinely fun title as long as you take the time to research every nook and cranny that you'll have to uncover.
Wii U Virtual Console
Ah, Super Castlevania IV. The last great bastion of classic Castlevania games before they went all Metroid-style. I, for one, tend to prefer the more linear entries in the series, so Castlevania IV is one of the greats in my book. Plus, you can whip in eight directions. Eight directions!
3DS eShop Demos