A Link Between Worlds demands a glorious golden chariot!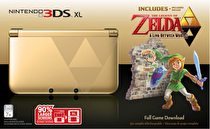 The special edition Triforce 3DS XL releasing next month in PAL regions has also been confirmed for a North American release.
Pre-packed with an eShop download code to get the digital version of A Link Between Worlds, the gorgeous handheld features a two-toned golden top half with Hyrule's Triforce, while the bottom half features a black shell with the upside down Triforce found in Lorule.
The hardware bundle will launch alongside the physical release of the game on November 22, and be priced at $219.99 USD.