The special edition of the game comes with all kinds of goodies.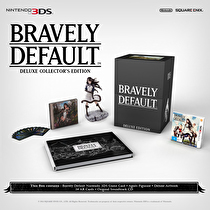 The special collector's edition of Bravely Default will be coming to Europe, Australia and New Zealand. The deluxe edition of the game will include the following:
Bravely Default (physical version of the Nintendo 3DS game)
Agnès Figurine
Deluxe Artbook
34 AR Cards
Original Soundtrack CD
The special edition will be an exclusive to the online retailer ShopTo.net in the UK, however, people who pre-order the game at the retailer GAME will receive a smaller bonus artbook. People in Australia and New Zealand will also be able to get the smaller bonus artbook by pre-ordering either the standalone edition or the collector's edition at EB Games.
The special bundle will be priced at £79.99 while the standard edition will be £39.99 in the UK. There is currently no pricing information for Australia & New Zealand. The game will go on sale on December 6 across Europe and December 7 in Australia and New Zealand.