Natsume lands this game, hook, line and sinker.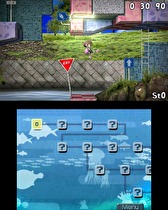 Natsume is bringing the latest entry of the long-running Umihara Kawase series to North America in 2014.
For the first time outside of Japan, the Umihara Kawase series will make its western debut on the Nintendo 3DS under the localized title, Yumi's Odd Odyssey. Similar to Bionic Commando, Yumi's Odd Odyssey is a puzzle-platforming game that gives players a fishing pole that allows you to grapple onto various ledges, conveyor belts, and more.
"We have been interested in releasing this unique title for awhile now," said Hiro Maekawa, President and CEO at Natsume. "We are working very closely with Agatsuma Entertainment to bring this game to our fans, who we know appreciate games that are a little different, and also have lovable characters."
Yumi's Odd Odyssey is the third and latest entry in the Umihara Kawase series in Japan. The first two games in the series were released on the Super NES and the PlayStation under the names Umihara Kawase and Umihara Kawase Shun respectively, and saw upgraded re-releases on the PSP and Nintendo DS.