Pre-ordering A Link Between Worlds is worth your while, Aussies!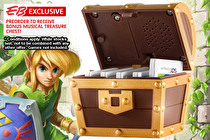 The musical treasure chest previously announced as a pack-in for A Link Between Worlds is set to be available for Australian Zelda fans as well.
Unlike the UK release at GAME stores, the treasure chest is a separate giveaway for those who pre-order the game at EB Games Australia, and will not come in a limited edition box with any posters or additional DLC.
We can also confirm that the treasure chest gift is not eligible to anyone buying the limited edition gold 3DS XL bundle, and is only available through pre-orders of the physical copy of the game.