A fix is on the way, but for now, players are advised to check Nintendo's guide to bypass this glitch.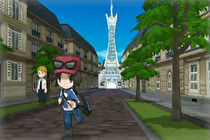 Nintendo has acknowledged that there is a save data corruption bug in Pokémon X and Pokémon Y and is currently preparing a solution for it.
Many reports have appeared online since the game's worldwide launch on October 12 from players who were experiencing issues upon loading their file after saving their progress in Lumiose City. The glitch will cause the game to not respond to any control input once it has been reloaded.
A free application will be released on the Nintendo 3DS eShop in the near future that will allow players to recover their game data. In the meantime, Nintendo has published a detailed diagram on how the glitch can be avoided, which is shown below.