Zelda-themed goodies and the download code for Link's Awakening make up this special package.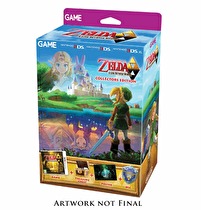 The Collector's Edition for the soon-to-be released The Legend of Zelda: A Link Between Worlds has been unveiled, to be sold exclusively at UK retailer GAME.
Currently available for pre-order at £49.99, the Collector's Edition contains a copy of the game, a musical chest toy, an artwork poster and a download code for the eShop version of the Game Boy Color classic, The Legend of Zelda: Link's Awakening DX.
According to the title's page on the GAME website, the redeemable download code will be emailed to the buyer after the pre-order is confirmed, meaning that the order cannot be cancelled once the code has been sent.
A Link Between Worlds will be released on Nintendo 3DS and 2DS in both North America and Europe on November 22, then later in Japan on December 26.