Mario Party's 3DS debut comes from Nd Cube and promises a nice single-player experience.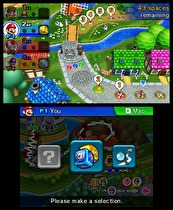 Mario Party: Island Tour, developed by Nd Cube, will feature StreetPass mini-games where players can compete against the ghost data of people they pass by.
The StreetPass mode is a part of the "deep and exciting" solo experience in the forthcoming 3DS game, due out on November 22. In addition, players can choose from different difficulties and compete in a mini-game tower, the latter of which wasn't explained further. Players can also unlock a variety of collectables, including voices, music, and character illustrations, using Mario Party Points earned throughout the game.
While we detailed Banzai Bill's Mad Mountain in our impressions last week, another one of the seven boards was officially named. Shy Guy's Shuffle City involves players using playing cards to try to strategically make their way to the goal.
Mario Party: Island Tour is due out on 3DS in North America on November 22. It is set for a 2014 release in Europe.