Pokémon X and Y are taking the world by storm.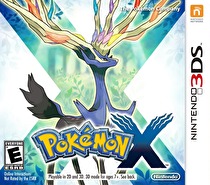 The latest generation of games in the Pokémon franchise, X and Y, have accumulated more than four million sales worldwide since their global launch on October 12, 2013.
While this is indeed an incredible figure, comparing the information to sales data from past Pokémon titles is arbitrarily vague, due to previous launches being spread across many different launch dates between regions. Pokémon X and Y are the first titles in the series to see a global, simultaneous release, and thus no historical precedent for a single launch has previously existed.
However, when comparing to the combined regional data for each of the previous generation's multiple launches, Pokémon X and Y are so far tracking ahead of the last generation, Pokémon Black 2 and White 2, by more than 70%. This would make the latest games in the series the fastest selling Nintendo 3DS titles of all time.
For those interested in total global franchise sales, the Pokémon series as a whole has sold over 245 million copies worldwide. Of the five sets of RPG games in the series to be released since 2002, three of the sets have surpassed 15 million units sold worldwide.
Pokémon Diamond and Pearl - Nintendo DS - 17.63 million
Pokémon Ruby and Sapphire - Game Boy Advance - 16.22 million
Pokémon Black and White - Nintendo DS - 15.42 million
Pokémon HeartGold and SoulSilver - Nintendo DS - 12.67 million
Pokémon FireRed and LeafGreen - Game Boy Advance - 12 million
Nintendo President Satoru Iwata has commented on the launch. "The early response to Pokémon X and Pokémon Y not only reaffirms the ongoing passion of Pokémon fans, but also indicates that an entirely new generation of gamers is eager to experience the franchise for itself."