Link goes on his first journey, and Mario joyrides in this month's rewards.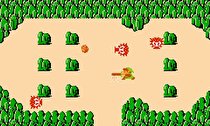 Club Nintendo offers up Touch Solitaire, The Legend of Zelda, ThruSpace and Super Mario Kart this month.
Touch Solitaire is the game of solitaire, but played using a touch screen. This DSiWare game can be redeemed on the 3DS for 100 coins.
The Legend of Zelda on the NES was the first Zelda game ever made, and is quite well regarded for its influence on gaming as a whole. Playing as the intrepid Link you must recover the eight pieces of the Triforce and save princess Zelda. Check it out on the 3DS for 150 coins.
The WiiWare game ThruSpace is a puzzle game that has you fitting puzzle pieces through walls. The hard part comes when you zoom towards these walls down small tunnels at high speeds. This one is playable on the Wii and Wii Mode on the Wii U for 150 coins.
Super Mario Kart is where the beloved kart racing franchise began. Race with Mario and friends through multiple tracks. Originally released on the SNES, you can play this on the Wii or Wii Mode on the Wii U for 150 coins.
If any of these interest you be quick, they are going to be replaced with four different games on November 3.