Trial some trials today!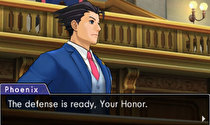 A playable demo for Phoenix Wright Ace Attorney: Dual Destinies is available to download from the Nintendo 3DS eShop right now, as soon as the Nintendo Direct video concludes.
The demo is likely the one that was on show at this year's E3, featuring the opening trial and the all new Mood Matrix mode, in which you read witness' emotions to cross reference against their testimonies.
The full version of the game will become available on October 29.