Register two games, get a downloadable retail game for free!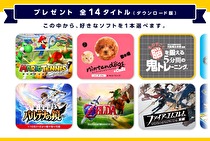 Nintendo 3DS owners in Japan who register (or previously registered) two of any packaged or downloadable games with Club Nintendo between September 1 to January 13, 2014 are eligible for for a free game. This campaign excludes downloadable content or download only titles. The following fourteen titles are available for download on the 3DS eShop for those that have registered two games:
Mario Tennis Open
Kid Icarus: Uprising (coming to the eShop on October 31)
Nintendogs + Cats (all versions available separately)
The Legend of Zelda: Ocarina of Time 3D
Brain Age: Concentration Training
Fire Emblem: Awakening
Culdcept
Pocket Soccer League: Calcio Bit
Hana to Ikimono Rittai Zukan
Pilotwings: Resort
Art Academy: Lessons for Everyone
Star Fox 64 3D
This campaign is currently Japan only.