Just in case you were waiting for it.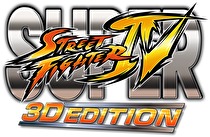 Super Street Fighter IV 3D edition is available as a digital download on the eShop starting today.
After releasing in Japan's eShop earlier in September, Super Street Fighter IV's digital download will now be available for $19.99 in the US. While keeping all the recognizable mechanics of Street Fighter we all know and love, Super Street Fighter IV turns it up a notch. A new, over-the-shoulder camera angle has been added, using the 3D capability provide a new dynamic to the fight. Players can also battle one another locally and worldwide on the internet using the 3DS's connectivity.