Five DLC packs will be made available via this season pass.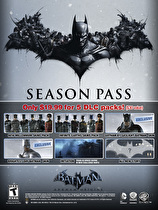 The DLC Season Pass for Batman Arkham Origins has been confirmed for release alongside the main game on Wii U.
Available for $19.99 in North America, the Season Pass will provide access to five pieces of downloadable content. Two of the DLC packs will be single-player content; the first item, Arkham Origins Initiation, tells the story of Bruce Wayne's final trials before adopting the Batman guise, while the other will be a full campaign separate from the main storyline.
The remaining three pieces of DLC are skin packs - these include Gotham By Gaslight Batman and Brightest Day Batman, in addition to skins based on the New Millenium and Infinite Earths comic book series.
Batman Arkham Origins hits Wii U worldwide on October 25.