New features and gameplay improvements are inbound to Toki Tori's puzzling sequel.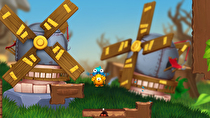 A major software update for the puzzle adventure title Toki Tori 2, named Toki Tori 2+, will be arriving on the Wii U eShop in Europe this week.
The update has been available for the PC version of the game since July, adding new puzzles and several enhancements to the core gameplay, including a mechanic to assist players through the early stages, an improved world map and new graphical elements to help distinguish the different sections of each area.
Existing owners of Toki Tori 2 will be able to download this update free of charge, while all new purchases will include these new features automatically. The game will also see a temporary price cut to £7.79/€8.99, down from the regular cost of £12.99/€14.99, until September 19.