Also, did you know that 1 trillion coins have been collected since launch?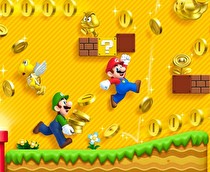 The Coin Rush downloadable content for New Super Mario Bros. 2 will be discounted by 30% in Europe from August 17 to August 30, in celebration of the one year anniversary of the game's release.
All 10 of the individual course packs, as well as the multiple pack sets, will receive this discount until the end of this month. It is unknown if a similar discount will be employed in other regions.
This promotion follows Nintendo's recent announcement that, since the launch of New Super Mario Bros. 2, players worldwide have accumulatively collected more than 1 trillion coins, with the global total at the time of writing sitting at 1,030,382,137,495 coins.