Toy Box mode characters coming in October.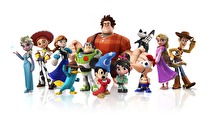 Disney Interactive has unveiled their Toy Story in Space play set featuring Buzz, Jessie and Woody at the D23 Expo, making it the sixth Play Set they've unveiled.
Beginning in October new characters for Toy Box mode will begin rolling out including Sorcerer's Apprentice Mickey and Rapunzel as well as characters from Wreck-It Ralph, The Nightmare Before Christmas, and Phineas and Ferb.
The game is currently set to release on Wii, Wii U and 3DS August 18.