Are you confused by the EV Training in past titles? These new systems might just be the primer you need.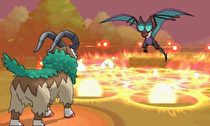 Pokémon X and Pokémon Y will incorporate two brand new methods of training your Pokémon outside of battle, known as Super Training and Core Training, respectively.
Super Training, referred to as S.T. for short, consists of a series of different minigame-style activities that the player puts their Pokémon through, in order to help raise their base stats, or Effort Values, which determine what the monster gains in HP, Attack, Defence and so on when it levels up.
An example of a Super Training activity, outlined in the latest issue of Japanese magazine CoroCoro, sees the player pit their Pokémon against other Pokémon-themed Balloon Bots in a virtual field. The objective of the game, which is controlled by using the Circle Pad and Touch Screen in tandem, is to shoot balls into the opposing goal, whilst preventing the Balloon Bots from scoring in your goal. Completing this game will result in a boost in your Pokémon's Effort Values.
Core Training, meanwhile, is a passive version of the Super Training system that does not require interaction from the player. By playing the Super Training games, players will unlock training bags, which can then be given to their Pokémon to increase their Effort Values independently. Core Training progress can be viewed via an icon on the Touch Screen at any time, although the player can speed it up by tapping on the screen while the Pokémon trains.
In previous instalments in the Pokémon franchise, it was possible to grow a monster's Effort Values through a complex process called EV Training, though this was less transparent than these new systems and was primarily used by advanced level players.
Pokémon X and Pokémon Y will be released around the world simultaneously on October 12 for Nintendo 3DS.