It's classic Miiverse with an Animal Crossing twist.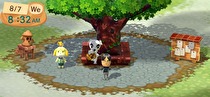 A free Animal Crossing-themed Miiverse-integrated application, called Animal Crossing Plaza, is available to download right now from the Wii U eShop.
Unveiled during today's Nintendo Direct presentation, the app functions similarly to Miiverse's WaraWara Plaza, but instead of Miis, the plaza is occupied with hundreds of Animal Crossing characters.
Users can interact with the animals to find out information about upcoming calendar events in the Nintendo 3DS title, Animal Crossing: New Leaf, as well as submit and read messages about specific characters, such as K.K. Slider or Isabelle.
Additionally, you can import photos and custom design QR codes made in New Leaf via an SD card, organise them into albums and post messages with one of these images attached. These can all be viewed directly from the official Animal Crossing Series Miiverse Community, which also launches today.
The Animal Crossing Plaza application will run through until the end of 2014.