EB Games in Australia and JB Hi-Fi in New Zealand will be handing out the legendary Pokémon.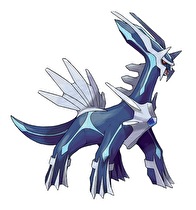 Nintendo Australia has announced that the distribution of shiny versions of the Legendary Pokémon Dialga, Palkia and Giratina will be held at participating EB Games stores in Australia and participating JB Hi-Fi stores throughout New Zealand.
Each of the Pokémon will be available one at a time for a two week period. Fans need only to bring their game and systems to the stores on the following dates to obtain their Pokémon.
- Shiny Dialga: Friday August 30th, 2013 – Thursday September 12th, 2013
- Shiny Palkia: Friday September 13th, 2013 – Thursday September 26th, 2013
- Shiny Giratina: Friday September 27th, 2013 – Friday October 11th 2013
Players will need to make sure they have the Pokédex in the game, and have no more than eleven Wonder Cards in their possession. For a full list of participating stores, go here.