Gotta catch this ball!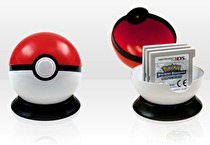 UPDATED: The Poké Ball bonus has also been confirmed for Australia, when you pre-order through EB Games.
United Kingdom trainers that pre-order Pokémon X or Pokémon Y through GAME retailers will receive a Poké Ball game card case with their purchase. Gamers who have already pre-ordered the game through the store will also receive the bonus.
Announced via their Twitter account, GAME showed off their mini Poké Ball with three upright game cards inside. The Poke Ball can fully open, and features a detachable base just in case you wanted to throw it around and release your game cards like they were pocket monsters.
As this is a retailer exclusive, it's not likely to become available outside of PAL regions. Pokémon X and Y will release worldwide on October 12.