Success in the handheld space makes up for the new home console's woes.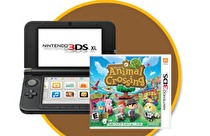 Nintendo posted a net profit of 8.62 billion yen ($87.8 million/£57.7 million) for the second quarter of 2013 thanks to flourishing 3DS sales, in spite of the Wii U's continued struggles on the market.
According to the most recent financial report, the increased profitability of the 3DS coupled with the depreciation of the yen helped the publishing giant to record these results, allaying the negative impact of the Wii U's poor performance.
From April 1 to June 31, the Nintendo 3DS and 3DS XL combined sold 1.4 million units worldwide, a 12% increase over sales during the same period last year. This brings lifetime-to-date sales for the handheld up to 32.48 million.
The most successful software was Animal Crossing New Leaf, which sold 1.54 million copies during this period, while Luigi's Mansion: Dark Moon and the Japan-exclusive Tomodachi Collection also had strong quarters, with 1.43 million and 1.39 million copies sold, respectively. Overall, more than 11 million sales in 3DS software were recorded, a 10% improvement year-on-year.
The Wii U did not fare nearly as well in Q2. It pushed a meager 160,000 systems, leaving its overall worldwide sales at just 3.61 million. In their report, Nintendo attributed these low figures to the small quantity of key first-party titles released, with only Game & Wario and New Super Luigi U launching during this time.
The publisher has stated that it plans to regain sales momentum for the console before the end of the year with the strategic release of games such as Pikmin 3, Super Mario 3D World, Donkey Kong Country: Tropical Freeze, The Legend of Zelda: The Wind Waker HD and Wii Party U.