Now can I show you my pokémon!?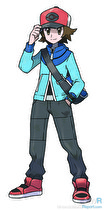 Participating GameStop locations will be offering three shiny legendary Pokémon starting in early August.
The Pokémon and dates are as follows:
Shiny Dialga, available from August 19 - September 8
Shiny Palkia, available September 9 - September 29
Shiny Giratina, available September 29 - October 20
Players are required to have obtained their Pokédex in game, and they should have no more than 11 Wonder Cards. Eligible games include both Pokémon White/Black and Pokémon White 2/Black 2.
In Canada the event will be held at participating EB Games stores, and the available dates will begin on August 30.