Get Xtreme and blow up some Stardroids in these Game Boy and Game Boy Color Mega Man games.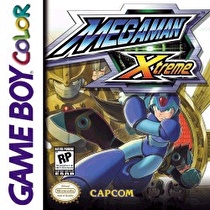 Six more Mega Man games are coming to the 3DS Virtual Console soon. The first four are the Game Boy versions of Mega Man II, III, IV, and V. The other two are Mega Man Xtreme 1 and 2, both of which pull from Mega Man's SNES entries.
The four Game Boy titles are peculiar remixed titles that pull in mechanics and features from the NES games. In addition, they add some off-the-wall stuff such as Stardroids (the replacement for Robot Masters in MMV) and the Mega Arm projectile shot.
The first Mega Man Xtreme pulled bosses and elements from Mega Man X and X2, while the sequel pulled from X3 and X4. Since Xtreme 2 was a late Game Boy Color release (2001), it quickly became very hard to find, and was also well-received.
No word on when these games will start coming out, but given Capcom's previous consistency with the NES games on 3DS Virtual Console, the releases should be constant once they begin.