Olimar returns for another round.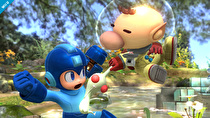 Captain Olimar and his trusty Pikmin will return in the next incarnation of Super Smash Bros.
This news comes directly from the official Super Smash Bros. site. In the pictures released with his reveal, Olimar appears to use red, yellow, blue, white and purple Pikmin. There is no mention of any other types of Pikmin, but his character page does suggest players check out Pikmin 3.
It's also worth noting that like the Wii Fit Trainer and Animal Crossing Villager, no pictures have been currently shown of Olimar in the 3DS version of the game.