It's Super Smash Bros Melee all over again...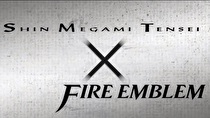 Shin Megami Tensei X Fire Emblem will, at least partially, take place in modern times, according to producer Hitoshi Yamagami.
Yamagami spoke about the upcoming RPG, being co-developed by Atlus and Intelligent Systems, to Hobby Consolas earlier this week, revealing his thought process: "For a long time, I've wanted to create a Fire Emblem in our times, in the real world. Imagine a Pegasus that comes from the sky and lands on Building 109 of Shibuya, Tokyo. I always thought that would be incredible."
"At the same time, I know it's hard because of how Fire Emblem is. I visited many companies to express these ideas. When I went to Atlus, I was told that Shin Megami Tensei together with Fire Emblem is what I wanted. So, I soon said that to Intelligent Systems and started this very special collaboration."
Though Yamagami quickly realized his mistake and added, "Oops! I shouldn't say that the game takes place in the real world. We haven't announced it, right?"
During February's Iwata Asks, Yamagami revealed that the game almost took place in a sci fi world on Mars, though he decided it would be best for the series to stay true to its roots at the time.
Almost nothing has been revealed about the crossover venture until now, though this still doesn't rule out the possibility of Fire Emblem's trademark medieval setting making an appearance either.
Shin Megami Tensei X Fire Emblem was originally announced for the Wii U in January and currently has no set release date.