The focus on 3D makes touch controls difficult.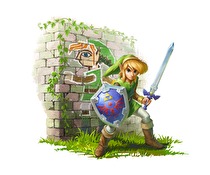 Eiji Aonuma, the producer of multiple Legend of Zelda games, discussed why The Legend of Zelda: A Link Between Worlds uses button controls rather than the touch screen.
The reason for the abandonment of touch controls in A Link Between Worlds is because of the implementation of 3D. He put it very succinctly, saying that "it's hard to play with a stylus when you have 3-D on the top screen," likely referring to the angle at which the 3DS must be held to properly see the 3D effect.
Aonuma says of the two DS Zelda games that he "had to take advantage of the touch screen. And using the stylus created a lot of opportunities for introducing new surprises and a lot of new fun."