The Metroid series could be revisited, but the studio does not feel it can make two big games at once.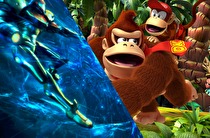 Retro Studios has stated that it may return to the Metroid franchise after completing Donkey Kong Country: Tropical Freeze, but claims that the team does not currently have the development bandwidth to work on two major titles at the same time.
Speaking to IGN, Retro president and CEO Michael Kelbaugh said: "We love Metroid Prime and we always will. It was a big part of our studio, the culture of the studio. The majority of that team is still at Retro." Kelbaugh went on to say "we might do another one someday. But we really enjoyed working with DK as well."
Kelbaugh revealed earlier this week that Retro chose to create a Donkey Kong Country game over a Metroid title because they felt that they had "unfinished business" with the big ape after developing Donkey Kong Country Returns on Wii.
"We're pretty much on one major project at a time. We do a game every two years or three years," Kelbaugh added. "Sometimes we'll have a little bit of extra bandwidth to help out other entities at Nintendo. Do we have the bandwidth to do two major projects at once? I don't think so. A big project and a little project at the same time, we can do that."
As an aside, when quizzed on what direction the Metroid series might go in next, Nintendo producer Kensuke Tanabe hinted that Metroid Prime Hunters could be a source of influence.
"Basically I'm thinking of, not just Samus, but how we can expand the whole Samus universe," Tanabe said. "You remember Metroid Prime Hunters. I'm thinking about things like how we could make that go out further, with all these different bounty hunters as well."