Trading is faster, EV's/IV's will be more visible, and seven languages will get translations.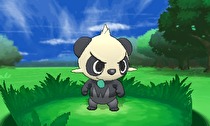 Some smaller details regarding features for the new Pokémon X & Y games have been touched upon during the Roundtable and its Question & Answer session at E3.
The games will apparently feature multiple hairstyles for your player characters. The 3D animation of the Pokémon battles impressed the attendees of the Q & A. Eight new gym badges have been confirmed and trading Pokémon is a lot quicker than previous titles. The previously invisible background stats called EV and IV's are going to be more visible to the player this time around too, but exact details on that are not yet known.
As for the previously announced Pokémon Aime virtual-pet-esque feature, players can high-five,pet, feed, and play with their pokémon. A relationship built up this way will result in a better dodging for that pokémon in battle.
The Pokémon carts will also support the following seven languages:
English
German
French
Spanish
Italian
Japanese
Korean