Kick shells with ease using the Hint System!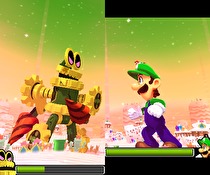 Nintendo has revealed in a recent press kit that their upcoming 3DS game, Mario & Luigi: Dream Team, will feature boss battles that entail turning your 3DS sideways; this will put a giant Luigi on one side and the boss on the other.
To help players there will also be a Hint System and Easy Mode, making the game more accessible.