Tend to your garden and help your animal friends with flower deliveries.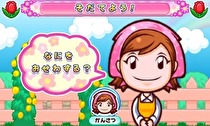 A new entry in the Mama series of games is coming to the Nintendo 3DS, this time for another round of gardening in Gardening Mama: Mama and the Forest Friends.
The premise of the game involves delivering flowers to the animal inhabitants of the forest. For instance, a bunny might ask you for certain kinds of flowers to attract people to her little store. Mama is then rewarded with shopping tickets that let her get decorative items for her own garden.
The core of the gameplay remains the touch screen mini games. The player will be planting flowers in the correct order, pouring soil, and even balancing a watermelon cart. The game also has you taking care of your own garden and harvesting produce.
Gardening Mama: Mama and the Forest Friends is launching in Japan in September.