Capcom turns Hunk into a woman who fears pants.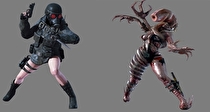 This week, Capcom is bringing two downloadable characters, Lady Hunk and Rachel Ooze, to Resident Evil: Revelations Raid Mode on Wii U for $2.99 each.
Lady Hunk is a female version of the Resident Evil character Hunk sporting hot pants, and Rachel Ooze is a t-Abyss virus infected version of Rachel.
Both characters will be available for purchase on the Wii U eShop. Raid Mode is a game mode in which up to two players are scored while taking down enemies.