I'm hoping to master the faceplant!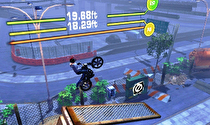 Tate Multimedia is bringing the popular Urban Trial Freestyle to North America and Europe on the Nintendo 3DS eShop June 27.
The game, originally released on Playstation 3 and Vita, lets the player perform various motorbike stunts in three single player modes, over 45 levels, and five cityscapes. A track editor will be exclusive to the 3DS, and the game will also feature asynchronous multiplayer in the form of a ghost mode.
Check it out for yourself in the gallery below!