More finger pointing and monster hunting than you can handle!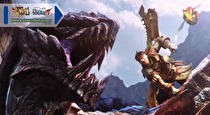 In a Nintendo Direct presentation shown in Japan today, Nintendo released new details about two upcoming Capcom games: Ace Attorney 5 and Monster Hunter 4.
Ace Attorney 5, or Phoenix Wright: Ace Attorney - Dual Destinies as it will be called in English territories, is set to occur one year after Ace Attorney 4. In it, Phoenix investigates the destruction of the courtroom with the help of assistant Kizuki and a new prosecutor. A demo will be released in June, and the game launches in Japan on July 25 for 5,990 yen.
Monster Hunter 4 will introduce two new weapon types - the Bug Staff and Charge Axe - as well as many new monsters and areas. There will be two limited edition 3DS consoles released to coincide with the game's launch on September 14.
If your Japanese is up to snuff you can check out the video for yourself below.