House rules, achievements, and more!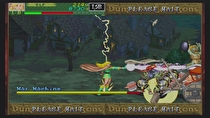 Capcom has unveiled more details about the upcoming Dungeons & Dragons: Chronicles of Mystara which will be releasing June 18 on Wii U eShop.
In addition to again confirming online co-op and GGPO netcode they also detailed other new features:
- Challenges, similar to achievements.
- The Vault, where players can unlock concept art and House Rules
- House Rules, add features like unbreakable equipment and health drain.
- Character Visualizer, track how often you and your friends use each class.
- Visual filters, add scan lines, a crisp filter or change viewing modes.
They also confirmed that you can manage your inventory on the Wii U GamePad, but there was no mention of whether or not the title would support off-TV play.