This item is swarming with Mario villains!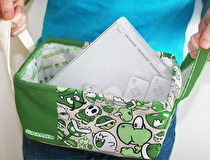 A Super Mario Accessory Box is now available as a North American Club Nintendo reward. The new item costs 700 Club Nintendo Coins and is only available in limited quantities.
The Super Mario Accessory Box is green and has various Mario series villains printed on it. The item is shown as being a great place to store games, consoles, and accessories.
The Super Mario Accessory Box is likely green to help celebrate The Year of Luigi. While the item description doesn't confirm this, Nintendo has named each image "luigi_box" on the Club Nintendo site even though Luigi doesn't seem to appear on the product. This could also be hinting that a red Mario Box may hit Club Nintendo in the future. However, this is all pure speculation and should be taken as such.