They're back!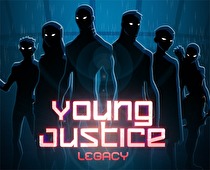 Little Orbit has released the first trailer for Young Justice: Legacy, showing off an array of playable characters and some basic gameplay.
The game takes place between Season one and two of the Cartoon Network series and incorporates all 12 of the team members from the show. Each character will have unique attacks and abilities. The team must work together to stop members of the Light from using a kidnapped archaeologist's research to gain enough power to control the world.
The recently cancelled television series followed the exploits of a team made up of DC superhero sidekicks, such as Robin, Kid Flash, and Zatanna, as well as new characters. Notable villains from the DC universe and the Justice League were also featured prominently throughout the show.
Slated for a September release, Legacy features original voice acting from the show, 15 missions, co-op and multiplayer modes. The game will be available on all consoles, including both the Wii U and 3DS.