Time to break out those Play Coins again!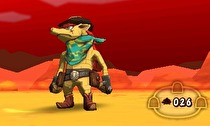 A puzzle for Dillon's Rolling Western: The Last Ranger was added to puzzle swap today. Be sure that you have StreetPass active for your Mii Plaza to receive the new panel.
It's really great to see Nintendo giving Dillon the star treatment. Ever since his debut game on the eShop last year fans seem to really enjoy the newest addition to the Nintendo roster.