Europe gets a sneak peek at Capcom's upcoming crossover game.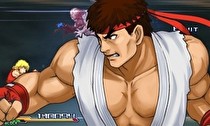 Capcom's upcoming Project X Zone has just received it's first demo on the European 3DS shop, and will be getting a second demo on June 27. The game is currently set to release on July 5 in Europe and June 25 in North America.
The first demo, Lethal Surprise, features characters from "Sakura Wars, Cyberbots, Space Channel 5 and Valkyria Chronicles", and the second demo, Dark Hours, will take place in the Ghosts 'n Goblins universe.
There was no word on whether or not the demo would hit the North American eShop.